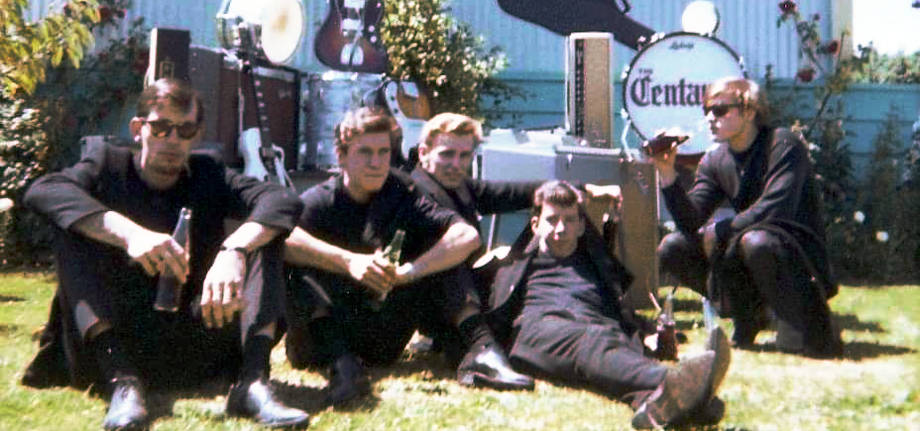 THE CENTAURS STORY
Page 3
In Frankfurt, they played the K-52 club for several weeks of all-nighters - 12 hours of one hour on, one hour off, alternating with a second band. This type of grind work soon began to take its toll on them, and Ron's voice started to go from the strain of performing 6 nights a week. They played briefly at the Riviera Waldorf before heading further south to stay at a guest house (a pub with room and board) where they played at the Kitzingen Coliseum to a show filled with US soldiers who went crazy for the band. Upstairs at the pub where they were staying was an old dance hall that probably hadn't been used since WWII, and they got permission to clean it up and turn it into concert venue. They stayed and played shows there for about a month. By this time, some of the band members were getting homesick, and wanted to return to Canada. John and Hugh stayed while rest of the band returned to Canada. Hugh soon followed a while later along with his girlfriend (who he later married).
John joined a well known German band called The Sonnys who were booked solid for the next year. He stayed with them for about 6 months, playing in almost every city across Bavaria. He was also attending a music conservatory in Würzburg, honing his drumming skills with a famous teacher recommended by William F. Ludwig jr.
When John returned to Canada he found that everybody had gone in different directions. He went into business opening 'The Picture Show' art Gallery chain which eventually grew to over 30 stores across Canada. A few years later he successfully formed the Get-Away Van company and also became president of the Canadian RV association.
Hugh formed a group with Bob Brown and Ron Williams called The Riley-Brown Band, and worked as computer operations manager for the city of Surrey.
During Expo '86, a massive reunion of 60s Vancouver bands took place at Club Soda and The Centaurs re-formed to play with all the original members. Unfortunately, at the last minute, Al West was called away to recover wreckage from the Challenger space shuttle disaster in Florida, as he worked for one of the biggest submersible companies in the world.
The band had hoped to continue playing together after the reunion, but at that time everybody was too busy with their own lives and it just didn't happen.
Ron Williams moved to Williams Lake and died in 2015 in a tragic car accident. Louis Pitre played piano on cruise ships for many years and did voice-overs. Sadly, he passed away a few years ago.
In 2010, John and Hugh once again revived The Centaurs along with Chad Thorp from The Nocturnals, as well as various singers and bass players. They enjoyed playing around town with many fans and friends and hope to play together again soon. Bob Brown is still active in the music industry in the Vancouver area. Al West lives on Vancouver Island with his wife, playing jazz with his string bass and performing with local bands. John remains very active, traveling and playing with different bands as well as teaching drum lessons to young students. Hugh enjoys a much quieter life, spending time with his family and friends.
---